Keep your brain in shape!
Fit all the 3D-puzzle pieces on the game board in such a way that it turns into a (flat) 2D-image.
One of the protruding sides of each puzzle piece has 1 ball, the other side has 2 balls.
So depending on how you orientate a puzzle piece, you get more or less balls.
When solved, all puzzle pieces will fit on the game board without any holes uncovered.
Recommended Age: 6+ Years to adult
PRODUCT CONTENTS:
- Compact game board with lid
- 10 double sided puzzle pieces
- Booklet with challenges and solutions
TARGETED SKILL DEVELOPMENT:
- Spatial Insight
- Planning
- Problem Solving
- Concentration
- Logic
HOW TO PLAY:
Step 1
Choose a challenge and put all the indicated pieces on the board.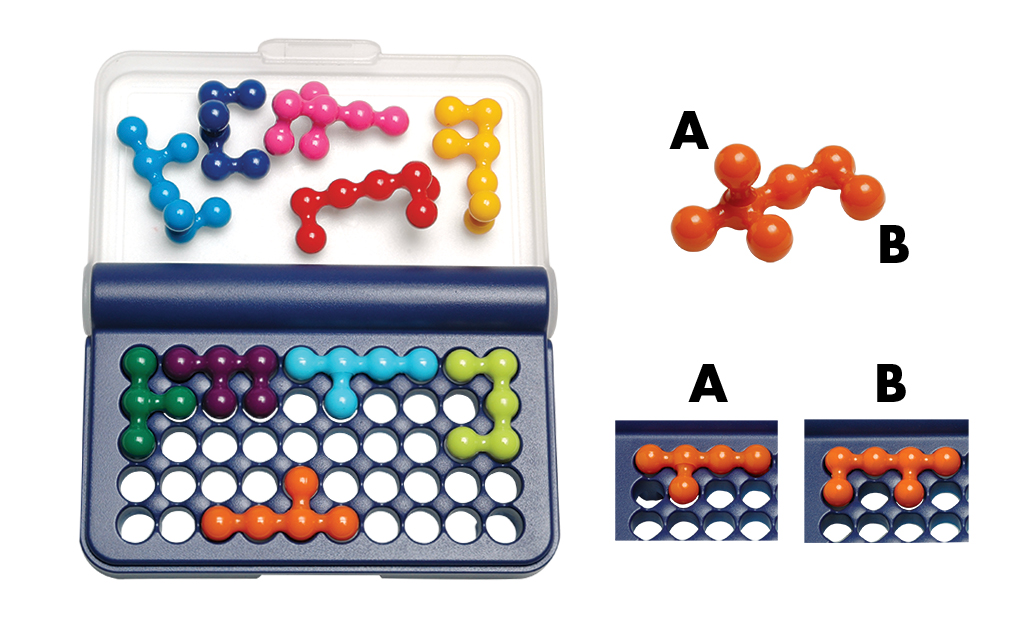 Step 2
Arrange all the 3D-puzzle pieces so all protruding parts fit into the holes of the game board.
Step 3
You've found the right solution when all the puzzle pieces fit!
Smart Games
is a primary brand among multi-level logic games. The main principle of making these toys and games is to educate and stimulate kids' brain functions via playing. Each game has unique task and innovation for developing different skills to boys and girls. During engaging in these games, your children would enjoy within such a fun and warm environment.
Smart Games are handy, compact and table top editions in plastic or a premium wood range while traveling. It also is a multi-award winning, fun and skill-building logic games and puzzles. The award winning games have multi-level challenges design to all age from easy to very trail, single player or multiple players.
Why Choose Smart Games
Smart Games
believes to learn and develop brain functions through play is one of the most critical concepts in childhood development. By way of playing, children are more intended to learn feature skills: cognitive, flexible thinking, language, logic, memory, planning, problem solving, social skills and build the self-confidence needed to navigate challenges in life.
Smart Games creates six collections, including family games, preschool games, class games, compact games, pocket games and magic magnetic games.
All Smart Games products we stock:
-
Bunny Peek a Boo (for 2Y+)
-
Day N Night (for 2Y+)
-
Trucky 3 (for 3Y+)
-
Three Little Piggies (for 3Y+)
-
Little Red Riding Hood (for 3Y+)
-
Smart Farmer (for 4Y+)
-
Snow White (for 4Y+)
-
Chicken Shuffle Jr (for 4Y+)
-
Ghost Hunters (for 5Y+)
-
Penguins Pool Party (for 6Y+)
-
Squirrels Go Nuts (for 6Y+)
-
Dinosaurs Mystic Islands (for 6Y+)